Gifts on the Nice List: How to Organize Daycare and Preschool Teacher Holiday Gifts
The holiday season should be a time filled with joy in your community, and that includes the school community that you and your family are a part of. It's a time of year for generosity and acknowledging special people in your life and your kids' lives, like their daycare or preschool teachers. Sometimes, the joy of gift-giving can become stressful, but it doesn't have to be, and it shouldn't be.
For some fun facts and stats, there are more than 2M preschool teachers in the United States, with over 90% of those teachers being female. That's a whole lot of patience and gifts that can show appreciation for teaching your little ones. That's an overwhelming number of teachers, but don't let it worry you. It means an even bigger community of families and holiday gift-giving ideas and power.
Tapping into the community that surrounds the daycare or preschool your child or children attend can be the perfect route to help organize a group gift for the teachers. It's sure to be a win-win for the gift givers and the gift recipients, especially around the holidays.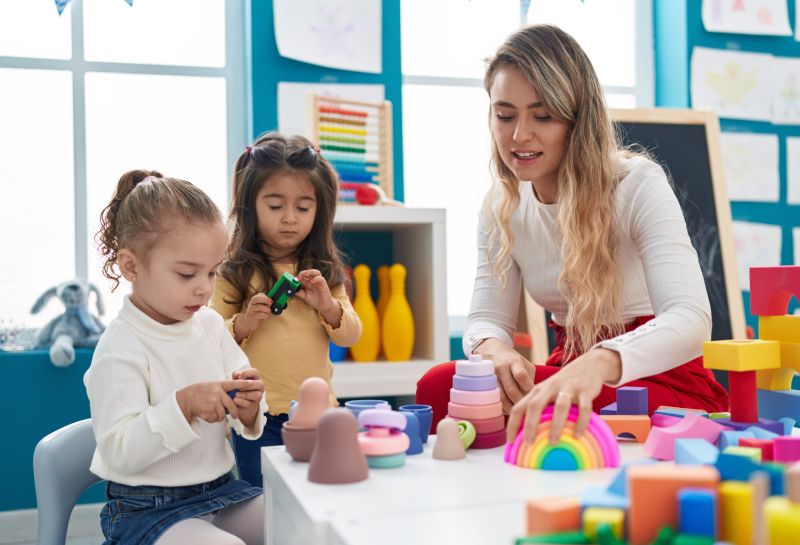 Some of the Best Holiday Gifts for Preschool Teachers
So, what are some of the best holiday gift ideas for daycare and preschool teachers? Whether it's a personal note of gratitude, student art, books, a spa package, or fresh flowers, there are countless holiday gift ideas for preschool teachers. But as a family, organizing gifts for all teachers and staff – especially if you have multiple school-aged children – can add to the time and money spent.
This year, for the holidays, take a group and community approach to organize a meaningful gift that brings the community together and gives each valuable daycare teacher and staff member in the school something they will love and appreciate.
The Best Preschool Teacher Holiday Gift is a Group Gift
Group gifts for preschool teachers can help resolve the challenges of limited resources and also help eliminate the "what should we get them?" debate.
Working together with other parents or through the PTO/PTA can be an excellent way to give a thoughtful and appreciated gift to preschool teachers. However, arranging group gifts for teachers can sometimes become overwhelming. Luckily, the right technology and gift-giving platform like GiftCrowd simplifies the process for both gift-givers and recipients.
Where Do You Start When It Comes to Orchestrating Successful Preschool Teacher Gifts?
Collaborating with other parents or through the PTO/PTA can be an excellent way to give a thoughtful and appreciated gift to preschool teachers. However, arranging group gifts for teachers can sometimes become overwhelming. Luckily, with the right technology and gift-giving platform like GiftCrowd, the process can be simplified for both gift-givers and recipients.
As an organization, GiftCrowd understands the importance of modeling kindness and building a strong school-community bond. To support this, GiftCrowd offers a free school-branded preschool teacher gifting solution that's designed to bring class parents, families, teachers, and staff members together. It's a platform where small contributions become meaningful gifts, fostering unity and ensuring no one is left behind.
What have other parents shared about using GiftCrowd?
Hearing from the experience of your peers can help when it comes to making decisions on holiday gifts. Here are some testimonials based on the experience of happy GiftCrowd customers.
"We used it in the past for holiday teacher gifts, and it made sense to continue using it this year." – Karen W.
"I love the variety of gift cards and that you can split the amount collected between multiple cards. It was easy to use the site and I have also been the recipient of GiftCrowd and found it easy to use. I love that as a gift giver, I could see if my recipient received it." – Kim S.
"It was easy for all families to contribute and the teacher got to choose where to spend the money. We had 18 people contribute and they all loved it and said it was super easy." -Rachel S.
"We collected money from 100+ parents and then used the sum of all the funds to purchase a GiftCrowd gift. Have recommended this platform to other PTA parents raising money for classroom gifts. It's easy and requires very little work, especially if you are very busy."- Natalie
Here are Five Reasons GiftCrowd Makes the Perfect Preschool Holiday Gift
1. It's Community-Centric: Create a united front by organizing collective efforts to show appreciation to every staff member. GiftCrowd brings parents, teachers, and students together in the spirit of giving.
2. Small Contributions Make a Big Impact: Watch as small contributions from individual families transform into meaningful gifts. Every dollar counts, and with GiftCrowd, you can make a real difference. It can help alleviate the financial burden of giving individual gifts to multiple teachers and staff.
3. Customizable Gifting: Tailor your gift-giving approach to suit your school's unique dynamics. Whether contributing per class or creating a pooled collection for even distribution, GiftCrowd offers versatile options to match the vision and goal.
4. Classroom Parent-Focused Features: GiftCrowd is designed with classroom parents in mind. It's quick and easy to set up. Classroom parents can easily share the link with other families, and GiftCrowd takes care of the rest, from money collection, tracking, and gift delivery.
5. A Group Gift That's Still Personal: Even though it's a group gift, you'll still be able to add a personal note and greeting for that added touch. The recipient will see all the individuals who contributed (though not the actual dollar amount).
This checklist will help you organize group gifting for daycare and preschool teachers using the GiftCrowd gifting platform.
How Much Does it Cost to Use GiftCrowd?
GiftCrowd is free to use. You can contribute as much or as little as you feel comfortable gifting. When it comes to Christmas gifts for teachers, you may be worried about contributing too little or too much money. Or perhaps you're concerned about how the gifts will be distributed among the teachers. Holidays get expensive, and the list of those on the nice list for gifts can grow quickly.
GiftCrowd helps eliminate these concerns and should make your anxiety around teacher holiday gifts a thing of the past. You can contribute as little as $2 to the group gift. Then, once all the contributions are pooled together, it adds up to a more significant amount, making it a far better alternative to small gifts that often add up in cost and are less appreciated.
The Clear Winner for Holiday Teacher Gifts: GiftCrowd
So now you've decided on taking the route of a group gift for teachers, but what do you use to make it a hassle-free and quick process? The answer: GiftCrowd. GiftCrowd's no-cost, online group gifting platform simplifies the process of group gifting, making it quick and easy for parents to show teachers how much they appreciate them.
Here's how the fully online gift platform works:
Create an Event: Easily set up your event in less than 5 minutes.
Share: Spread the word to families, inviting them to contribute online_
GiftCrowd Collects: The platform manages the contributions effortlessly for you.
Teachers Choose: Your teachers enjoy selecting gifts they want from over 450 top brands.
The holiday season is a time for giving, and what better way to embrace the spirit of generosity than by coming together as a community? GiftCrowd offers a free preschool teacher gifting solution to foster a sense of belonging and recognize the excellent work of the teachers during the holidays.
Empower Your School Community: The Ultimate Teacher Gifting Solution Awaits
Related Reading You May Enjoy