A Checklist on How to Organize the Best Group Gift
Here's what you should know when planning for group gifting and how to use GiftCrowd
In our recent post, we highlighted five benefits of group gifting, especially when using Giftcrowd, from it being an inclusive experience to a secure, online process. But how do you go about organizing a group gift?
In this post, we'll provide a checklist to guide you on gifting an ideal present to recognize those you care for and appreciate as well as highlight the process for getting started with GiftCrowd.
A Checklist to Organize a Group Gift
Identify gift recipient(s) and occasion. Maybe it's an end-of-the-year gift for all the middle school teachers, a retirement gift for a long-appointed principal, or a birthday gift.
Decide on a central group gifting lead. Every group needs a coordinator and a main point of contact for questions and to help organize a group gift.
Invite individuals to contribute what they wish to the group gift. Be sure to have email addresses so you can email the details and a shareable link to help spread the word. Encouraging your initial outreach list to share with their network can easily help increase the number of contributors and the value of the gift.
Communicate with potential gift giver(s) and provide updates. It's important to share the details of the gift, information on the recipient, any deadlines to contribute, and if appropriate, a suggested amount.
Collect any personal stories or kind words from those who have contributed to personalize the gift. This could include a photo to use in the message to the gift recipient.
Update all gift givers on the total gift amount collected, share when the gift will be received, and thank them for their contribution.
All of these above steps can be used for organizing a group gift, and are very relevant when using GiftCrowd. Keep reading on to see how straightforward and hassle-free the GiftCrowd platform makes this gift-giving process.
9 Simple Steps for Organizing Group Gifting via GiftCrowd in less than 5 minutes!
Step 1: Create a free account either using Facebook, Gmail, or set up a new login. Pick the option that works best for you.
Step 2: Activate your free account. An email to verify your email address will be sent to the email address you used upon setting up your GiftCrowd account.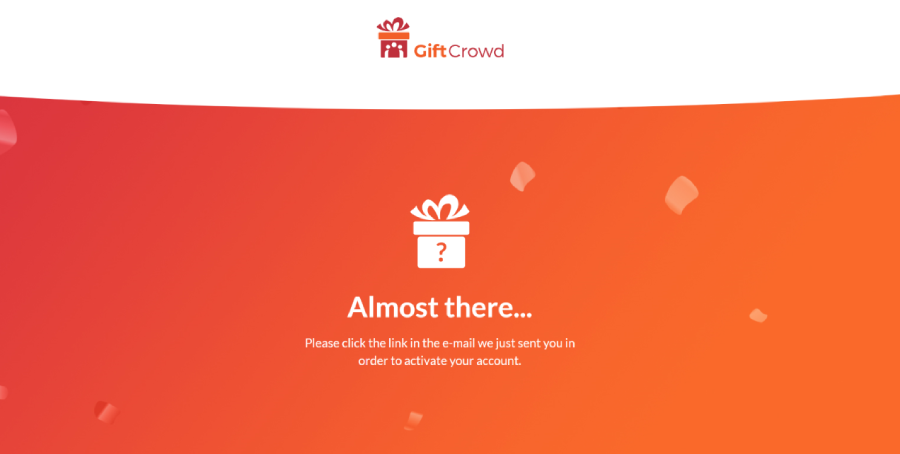 Step 3: Once you confirm your account, you'll be logged in and redirected to a screen like the one below. If it's your first time using GiftCrowd, most of the information will be blank.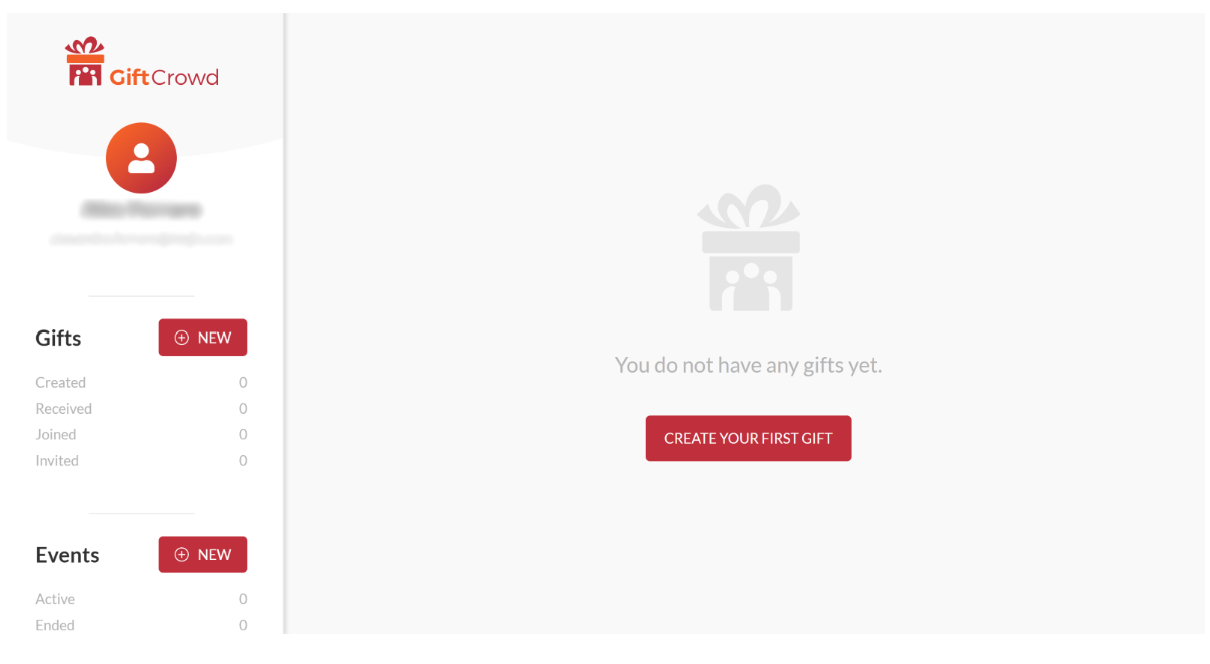 Step 4: Select "create your first gift." This is where you will begin to enter details for the specific group gift you are organizing. You can always come back and edit details ahead of the gift being delivered to the recipient.
At this stage you can also determine the following:
Invite others: Create a gift and invite others to contribute to the same gift.
Only me: Create a gift, but do not allow others to join.
For myself: Create a gift for yourself and allow others to join and contribute to it.
Since you're most likely organizing a group gift, you'll want to select the "invite others" option.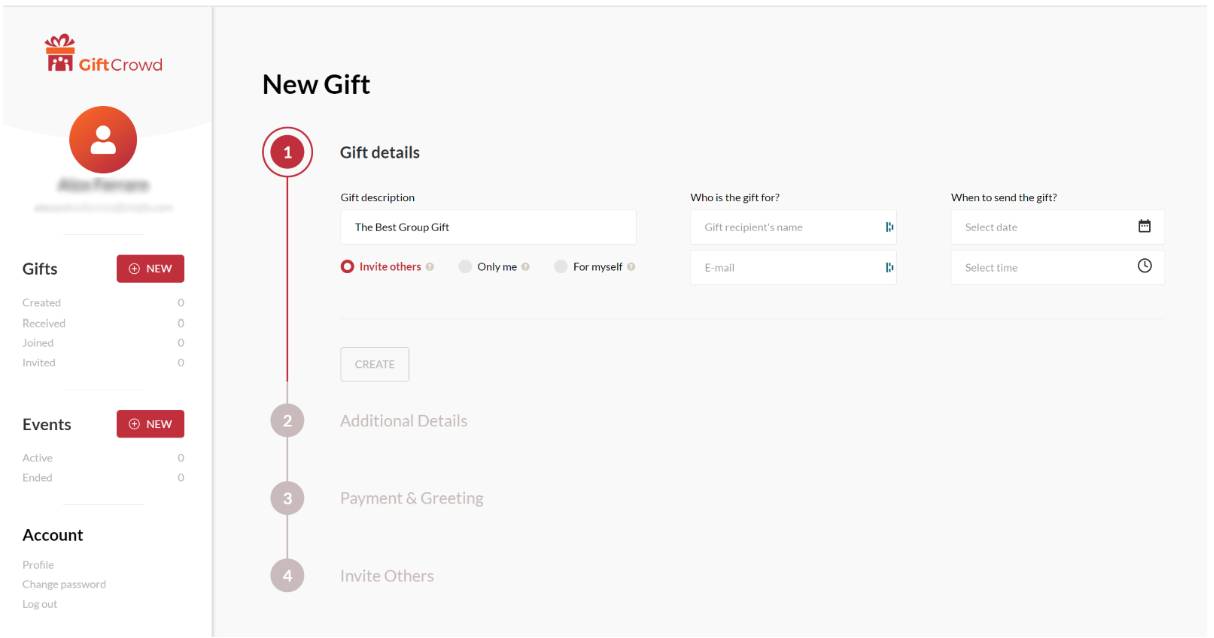 Step 5: Here's where you include suggested group contribution amounts, which are optional, as well as some settings on what the gift recipient will see upon receiving your group gift. At this point you can even customize the gift image – upload anything from a birthday image, to maybe even a personal photo you have of the person teaching, coaching, celebrating a milestone, etc.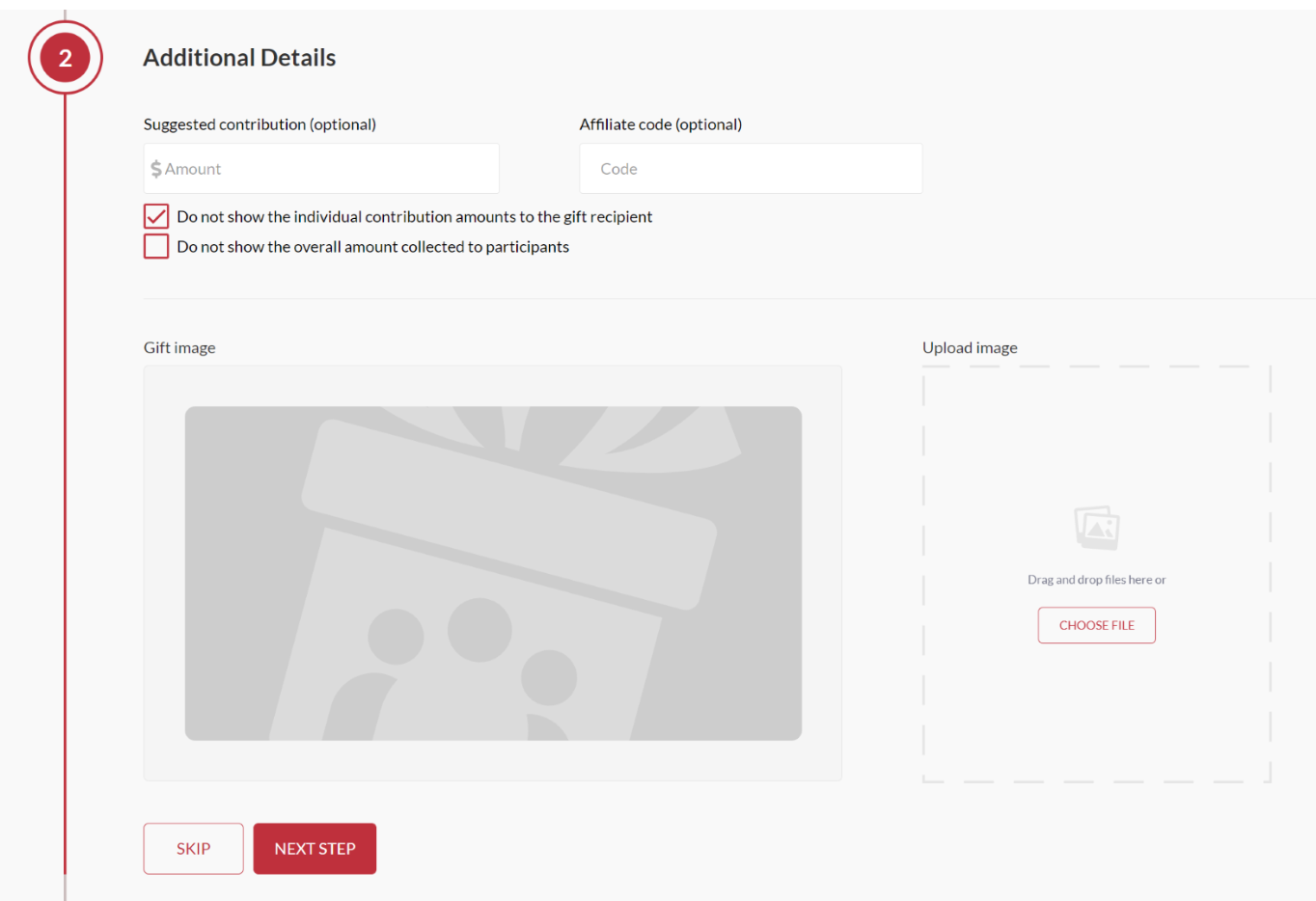 Step 6: Now it's time for you to make your personal contribution and include your personalized greeting for the gift recipient. As you go through the process, here you can add some more personalized details like typing a personalized message, selecting a background or uploading an image, and adjusting the font and color that the gift recipient will receive upon opening their digital gift. A personal touch goes a long way! Here is also where payment details will go for your portion of the gift.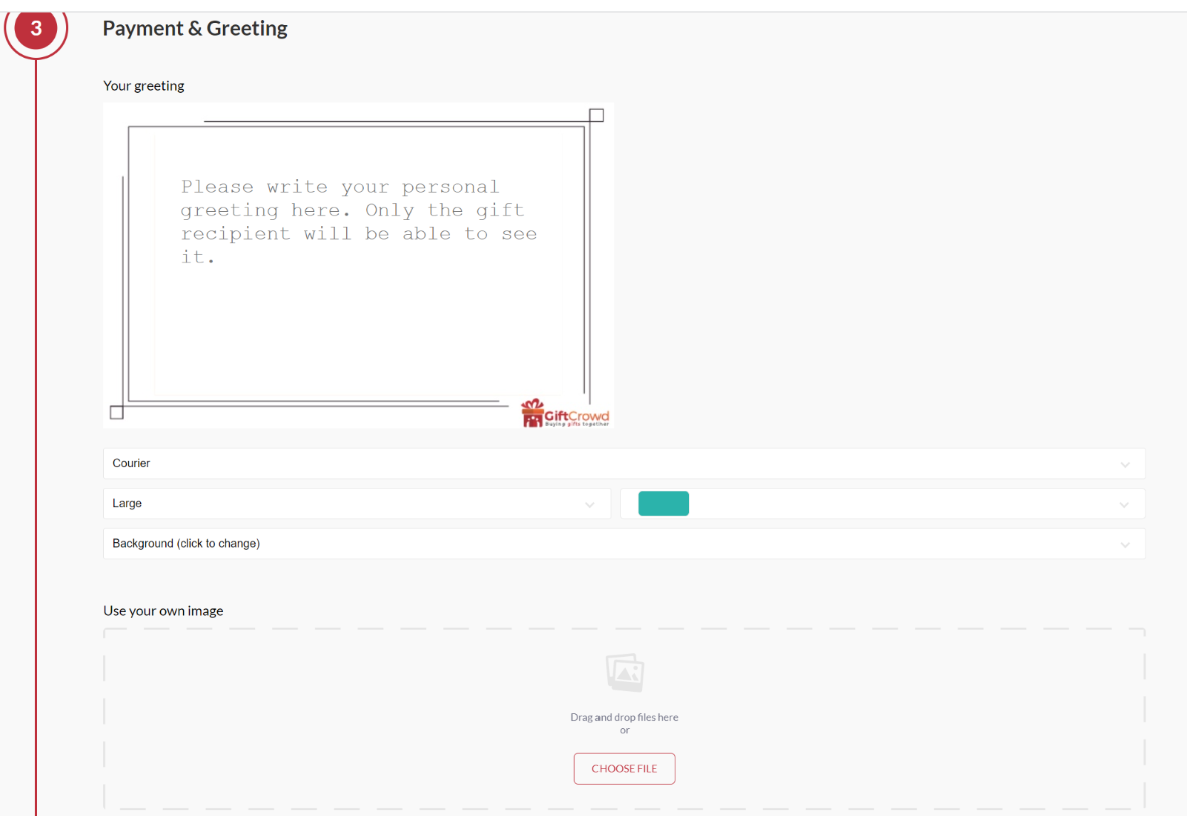 Step 7: Now the fun really begins as you can invite individuals to contribute directly through the platform. You can customize the note as a reminder of who the gift is for, the occasion, a deadline and any other relevant details and contact info if needed. You can also use the invite link to text people as well and encourage others to share.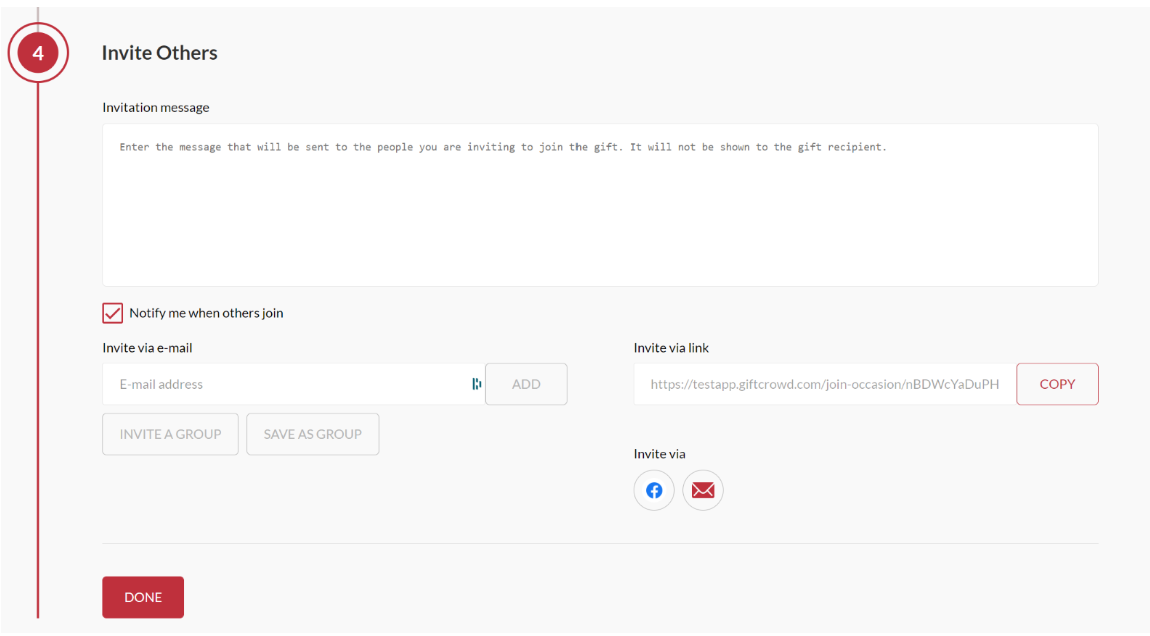 Step 8: Once all the details are entered, you'll see a summary of your gift set up and also receive an email confirmation.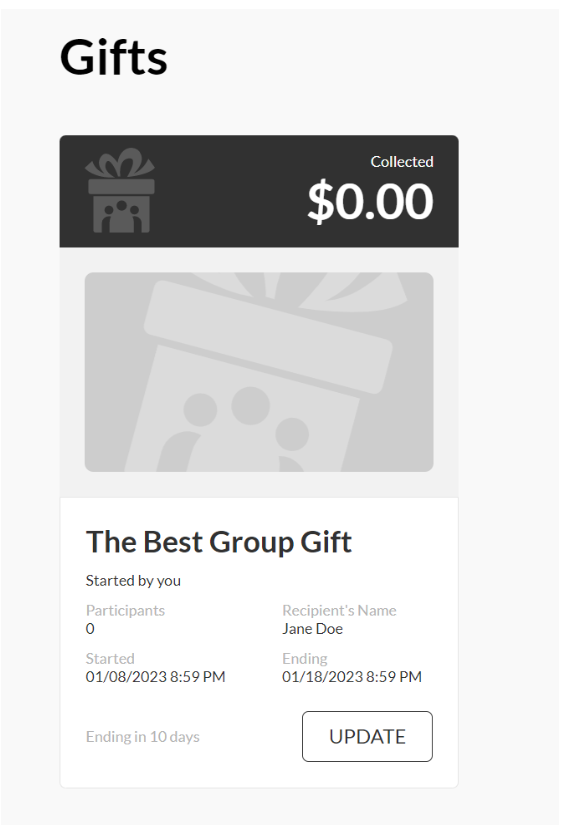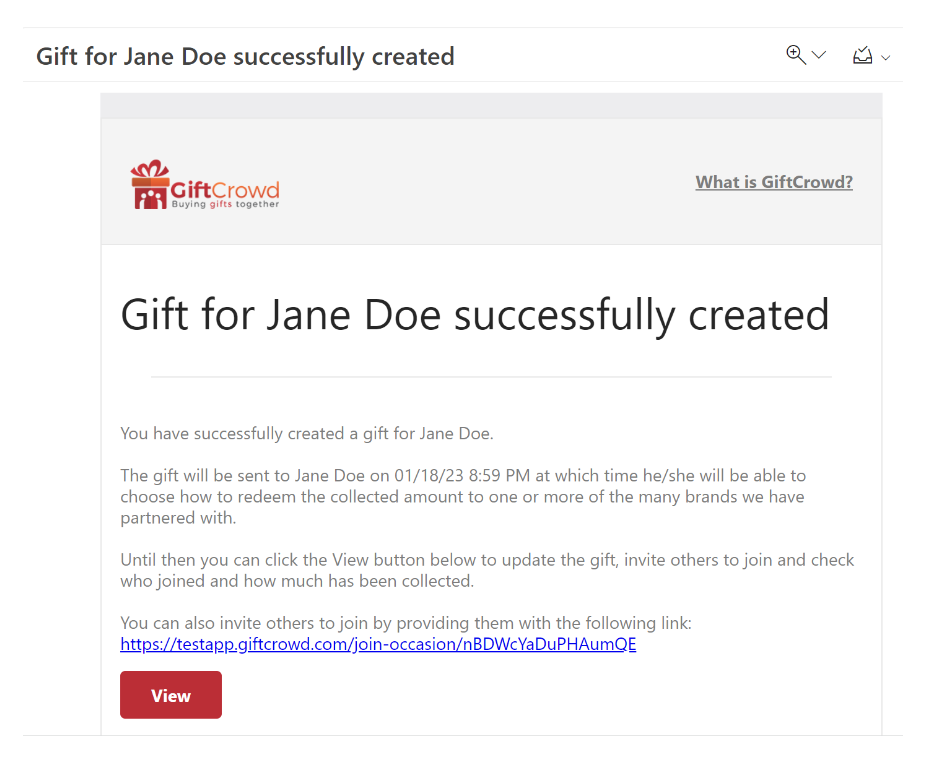 Step 9: As the gift organizer or leader, your job is done!
No need to collect money like in the old days. You'll be notified when others contribute to the gift and you'll also be able to make modifications to the gift if needed.
So next time you need to organize a group gift, look to GiftCrowd, for a hassle-free digital gift giving experience for everyone.
Buy (and receive gifts) the easy way.