What are the Best Gifts for Middle School Teachers?
Zany. Sassy. Curious. All words to describe those middle school years and students' personalities from sixth to eighth grade. Middle school is a time filled with significant change and adjustment for both teachers and students.
Middle school years are filled with learning foreign languages, more advanced courses in technology, music and art, health, and other life skills. Middle school is the time to explore new sports teams, clubs, and other activities to enrich the classroom experience. And it's the time students mature before taking the next step in their educational careers, high school.
For perspective, there are approximately 1.6M middle school teachers in the United States, and according to the Bureau of Labor Statistics, employment is expected to grow about 4% from 2021 to 2031 with approximately 47,300 openings each year.
Pakistani female education activist and the 2014 Nobel Peace Prize laureate, Malala Yousafzai shared that, "One child, one teacher, one book, and one pen can change the world." These very wise words ring true, and recognizing educators who are making this difference with small but meaningful gestures of appreciation during the year can go a long way.
So besides perhaps the greatest gift of having a homeroom of students that want to learn, listen, and grow, turn in their homework, and take an active role in their education, what do middle school teachers want when it comes to gifts? Do you ever wonder what are some of the best gifts for middle school teachers?
We'll share a few ideas in this blog post so whether it's the end of the school year, the holiday season, or just because, you'll have some ideas when it comes to gifts for middle school teachers that maybe you hadn't thought of before.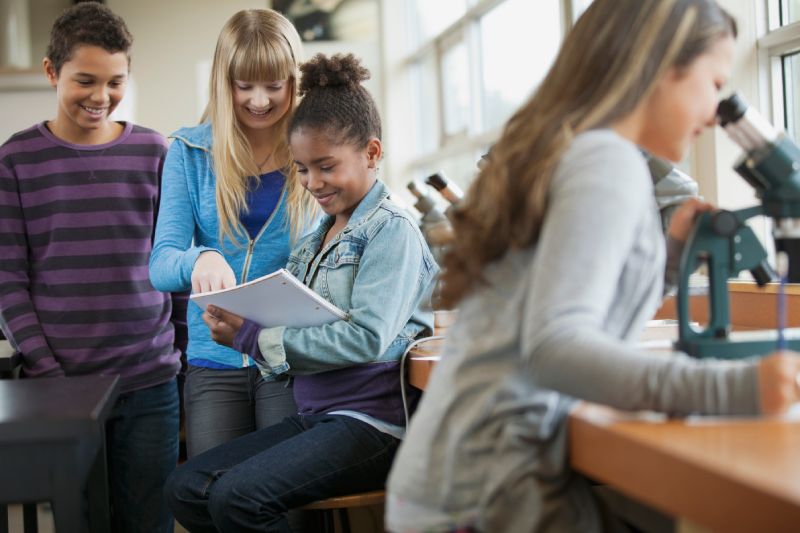 What characteristics make ideal gifts for middle school teachers?
It's usually always helpful to think about what you like (and don't like) to receive as gifts. We've all been there in receiving gifts that don't feel personal, aren't useable, or are just ugly or lame. And while it's good manners to show appreciation and thanks for any gift, some are just not as good as others.
Thoughtful, personalized, and tailored to the recipient's likes, interests, and personality describe the best middle school teacher gifts. A gift should demonstrate that you've put both time and effort into finding just the right present whether that's a physical item of appreciation or a memorable experience of some kind. The best middle school teacher gifts acknowledge the educator's uniqueness.
And when it comes to cost – more expensive is not always better or even necessary. Gifts that are extravagant or pricey may be nice to have but are often missing meaning and significance. With any gift, the goal is to bring the recipient happiness and build the connection and relationship you have between the giver and the recipient. So focus on the meaning and smile you can put on a teacher's face, and not the price tag.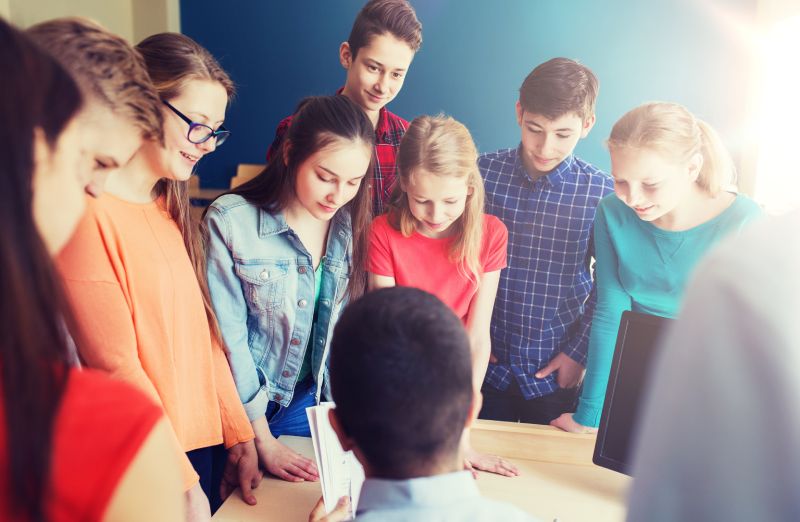 What are some of the best middle school teacher gifts?
Here are the top six ideas for middle school teacher gifts. From personalized, thoughtful, and just the right amount of practical, here are some teacher gift ideas for the middle school teachers in your life and your kids.
Crafting simple, yet meaningful handwritten notes
Writing a note to your middle school teachers can go a long way and is a very cost-conscience gift to share. You can practice your handwriting, new words, poetry skills, and other learnings to share with your teacher why they matter to you and the impact they've had.
Sharing a book by their favorite author
For the teachers you know have a favorite author, you could find the author's newest book to share as a personal and thoughtful gift. And if you don't know their favorite authors, referencing the New York Times bestseller list is always a great place to start.
Creating a musical playlist
Victor Hugo, a French poet novelist, and dramatist, once said, "Music expresses that which cannot be said and on which it is impossible to be silent." By creating a playlist of your favorite songs and artists or selecting songs that help show your gratitude you can create music playlists as a gift for your middle school teachers. It's again a very thoughtful and cost-friendly way of saying, 'thank you.'
Finding the perfect yet low-maintenance plant for the classroom or their home
Spider plants, cacti, snake plants, and aloe plants are just a few ideas that are great classroom or at-home pets, and this list from Healthline.com has other ideas to consider as well. Indoor plants are linked to improved concentration and memory, reduced stress, and increased productivity which make it the perfect addition to their classroom or home.
Having a hot meal delivered to the school
Teachers usually have a very finite amount of time during their day to sit and enjoy a hot meal. Whether they bring in their own packed lunch or opt to eat the cafeteria food, they certainly don't have time to venture out to pick up their favorite salad or sandwich from a local spot. Having lunch delivered is a really practical but meaningful way to show gratitude. It may require some more coordination with the administration but also is a great way to thank many teachers at once by having a meal catered.
Giving a gift card that's more than just a regular gift card
While regular gift cards are great, they have their limits as they can usually only be used at one location. Gift cards are definitely great especially if you happen to know a favorite place they like to shop or dine at, but you may not know which places they are.
GiftCrowd may just be the perfect answer for all your middle school teacher gifting needs. We may be biased but we think a teacher's favorite gift is one that they can pick out and use to treat themselves. GiftCrowd is different. It's not a regular gift card – when gifting with GiftCrowd, you gift a flexible online shopping experience. GiftCrowd is FREE for everyone and is a known and popular gift for teachers. Teachers can choose what they want from over 400 top brands, including places like Airbnb, Amazon.com, Ann Taylor, Carvel, Chevron, Crate&Barrel, and so many more shops, restaurants, hotels, and other experiences. Many of our customers have said so themselves. It's the right combination of practical yet thoughtful.
Here's what some happy GiftCrowd customers have shared whether the gifts have been for middle school teachers or other teachers, staff, or coaches.
"Do it! It saves time when trying to do a group gift. Easy, and free of cost, which is great as well as a great selection for the recipient." – Jenna A.
"GiftCrowd is an easy way to show appreciation for teachers/coaches that lets them get what they need." – Erin K
"Awesome way to gift anyone. Very easy to gift and gives the freedom to choose what they want to buy." – Purna V.
"I'd say it was a great way to bring parents together on a gift and give the teachers a way to choose their gift." – Kristi V.
So when you're looking for the best middle school teacher gifts, remember to make them personal and thoughtful with the right amount of practicality to thank those teachers who are making a positive impact on your zany, sometimes sassy, and always curious students.
Show your appreciation to Middle School Teachers With GiftCrowd